Learn About Mid-Florida
Metal Roof Contractors of Jacksonville
There are a lot of Metal Roofing Contractors and Companies here in the city of Jacksonville, but the most trusted and the most sought after remains to be none other than us here at Mid-Florida Metal Roof Contractors of Jacksonville. For years, we've been striving to be at the top of the industry's ladder, taking on each client request after another without stopping and without slowing down. We easily became the city's favorite because of the quality and the overall dedication we have to our craft.
Competition in the Industry
Main competitors in the city that we have come and go – with most of them end up not being able to handle the pressure and the competition that they have – us. They're not able to be in the level of how we perform and how we provide our services to our clients, for both the commercial and the residential markets.
That's' why we here at Mid-Florida Metal Roof Contractors of Jacksonville consider ourselves as our main competition as we are really trying and doing our best to stay on top of the rankings.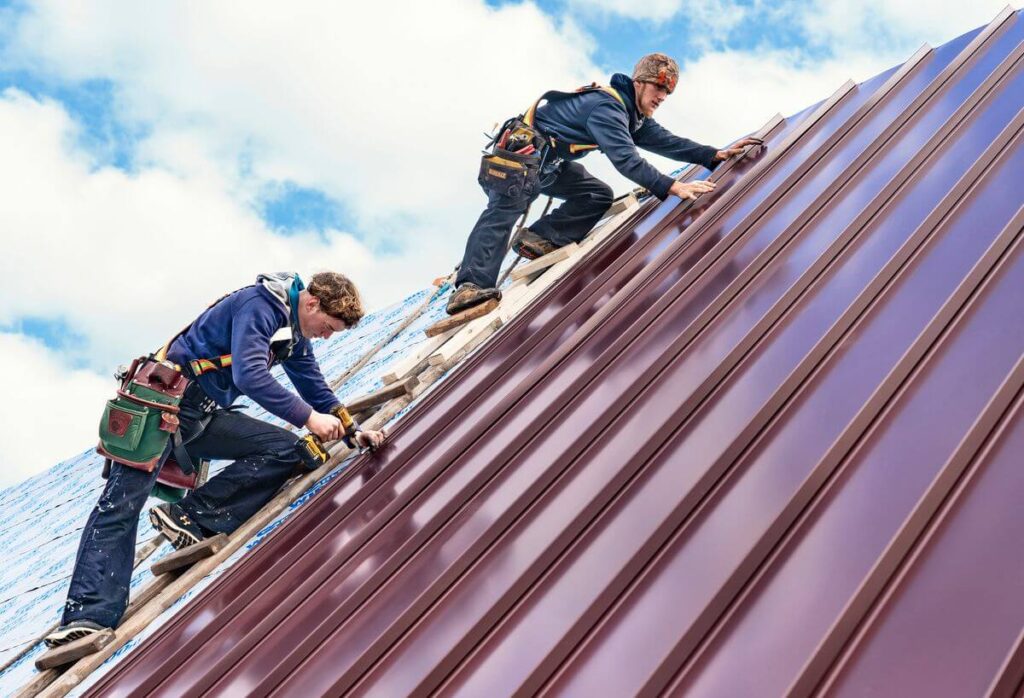 About Our Company
While there are many others that offer the same league and niche of services as we do, no company ever came close to what we have provided and what we continue to give and provide our clients. Many people don't believe us when we tell them that we started off in the industry being a Metal Roof Repair company only. We transitioned to being an all-around Metal Roofing Contractor skilled and capable of providing a whole wide spectrum of services.
Some of these services include but are not limited to New Construction Metal Roofing Service, Metal Roof Repair Service, Re-Roofing or Retrofitting Metal Roof Service, Metal Roof Replacement Service, and so on. If you want to see the full version of all our services, you can do so by checking it on our website. Navigate through the Main Services page and there you will see the entire list of services that you can entrust to us.
Why Choose Us?
Apart from the overall mastery and professionalism that our Metal Roofing Contractors and Experts have, we also utilize state-of-the-art technology and equipment to help in our services – to give our clients the level and the quality of Metal Roofing Services they have always been looking for.
Mid-Florida Metal Roof Contractors of Jacksonville is the only answer or the only key that property owners have been searching, for all their lives.
Contact Us Today!
---
Who would you rather trust? A new company with zero background when it comes to Metal Roofing Systems and Services, or a company or a contractor that had a significant impact in the Metal Roofing Industry all across the city of Jacksonville, Florida?
I'd go with the second – and should you do the same, do not ever hesitate to contact us here at Mid-Florida Metal Roof Contractors of Jacksonville for all the Metal Roofing Solutions and Services that you might need!
Whether it's for a commercial property that you own, or if you need it for a residential estate, we're just a call or an email away! Talk to us and be part of the list of clients we have successfully helped and assisted! Dial us now and never look back!
Time to Replace Your Roof? We Can Help
---
Considering roofing replacement? When it comes to roofing projects, many homeowners rely on professionals to get the job done. At Mid-Florida Metal Roof Contractors of Jacksonville, our specialists stick to all the industry standards when installing metal roofing on both residential and commercial properties. Therefore, you can be sure of getting a sturdy roof on top of your house. As a result, you can get the best services from our company in the following fields;
What Locations do we Serve?
---
Mid-Florida Metal Roof Contractors of Jacksonville is a name you can trust and rely on. Our metal roofing services were limited in Jacksonville, FL when we started. But with time our company has expanded and is now serving over ten locations within Florida.
It shows how reliable we are. Here are some places within Florida, where you can access our world-class metal roofing services: –