Baldwin's Best
Metal Roofing Company & Contractors
Welcome to Baldwin, Florida where, due to its distinct location, many have found reprieve in the town. Many families and married couples found safety and security in Baldwin. However, does your roofing make you feel safe?
Do you sleep safe and sound within your home when it rains? Or do you have to think and stress about the potential ponding of water? Or the potential leakage?
Do not subject yourself to such a situation! Maximize your safety as well as your family by turning to metal roofing! Even during thunderstorms, hailstorms, and wildfires, you can sleep safe and sound due to your metal roofing. However, do you know who to contact?
Congratulations! You found your way to us, Mid-Florida Metal Roof Contractors of Jacksonville, the most trusted and popular metal roofing installation company throughout Baldwin. Even throughout the whole Jacksonville!
Our Services
We have many options which you can choose from. There are several options that you may want to take in mind – in case you're new to the wonders of metal roofing. However, like with everything else, the types may serve you depending on what you are looking for. Take into consideration what your specific needs are. The different types of metal roofing may differ from each other in terms of their performance.
Corrugated Metal Roof – this type of roofing involves ripples and ridges to the shape or texture of the roof. These ripples are what make this metal roof stronger and more durable.

Metal Tile Roof – mostly used by those who like the appearance of concrete or clay tile roof as well as those who do not want to be hassled by corrugated sheets.

Metal Slate Roof – naturally resilient against fire and mold.

Tapered Panels Metal Roof – most suitable for people whose main concern is ponding water. The insulation system used by this roofing prevents water accumulation due to its slope.

Standing Seam Metal Roof – best for people whose main concern is the aesthetic appeal. This metal roofing uses a hidden fastener system which helps with the overall appearance of the roofing.

And many more.
These are among the most common and popular types of metal roofing. Here at Mid-Florida Metal Roof Contractors of Jacksonville, you are provided various options of roofing. The choices are laid out for you to choose from. With this, you will be able to consider which specifications you may want and need regarding the structure of your building, location, budget, and climate.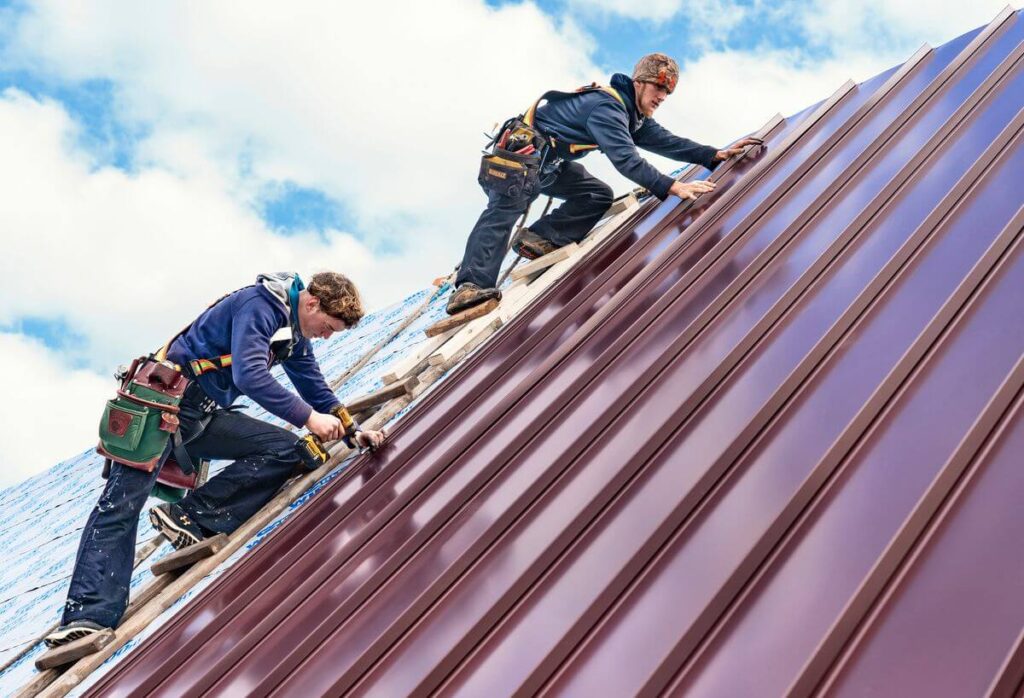 Qualified Roofing Company
We take into account everything our client may need – starting from their main concern, their financial status, as well as specific little details which will help your building most. With us at Mid-Florida Metal Roof Contractors of Jacksonville, you are in safe hands.
Warranties and advice are offered as well to cater to our clients. This is because we take in mind that not all of our customers are the same in terms of financial status and stability. We accommodate everyone and anyone despite their status in life.
We would love to accommodate you only here at Mid-Florida Metal Roof Contractors of Jacksonville. The best roofing company throughout the whole of Jacksonville and Baldwin.
Time to Replace Your Roof? We Can Help
---
Considering roofing replacement? When it comes to roofing projects, many homeowners rely on professionals to get the job done. At Mid-Florida Metal Roof Contractors of Jacksonville, our specialists stick to all the industry standards when installing metal roofing on both residential and commercial properties. Therefore, you can be sure of getting a sturdy roof on top of your house. As a result, you can get the best services from our company in the following fields;
What Locations do we Serve?
---
Mid-Florida Metal Roof Contractors of Jacksonville is a name you can trust and rely on. Our metal roofing services were limited in Jacksonville, FL when we started. But with time our company has expanded and is now serving over ten locations within Florida.
It shows how reliable we are. Here are some places within Florida, where you can access our world-class metal roofing services: –