Jacksonville's
Standing Seam Metal Roof Installation Team
Metal roofing has been used even before, way back in history. The Romans used copper as roofing whereas, in Europe, alloyed metal was used as roofing. This is because of their durability and longevity. Plus, they may also be pre-formed or site-formed according to the client. At the present time, the roofing industry is continuously innovating. As such, metals are gaining popularity as well. They no longer are the archaic, traditional type of roofing. They are becoming more fashionable with many uses, variations, types, and materials.
Among the metal roofing types are corrugated metal roofing as well as a standing seam. Metal can even be used to imitate asphalt shingles and other roofing materials. But what is a Standing Seam Metal Roof? Standing Seam Metal Roof essentially hoists the seams higher than the actual level of the roofing. This makes way for the creation of panels that start from the ridge up to the eaves of the roof. The seams help to promote a more sturdy structure. Hidden fasteners are mainly used for this type of roofing as well. Because the fasteners are hidden, the chances of encountering any problem regarding the fasteners are significantly reduced.
Types and/or Classifications of Standing Seam Metal Roofs
There are multiple types of roofing. First is the non-structural panel. With this, a flat panel and batten or seams are used. The seam used goes above the clips that protect and hide the fasteners. Whereas in the batten system, spacer clips latch in place. Non-structural panels cannot stand on their own. It must have a layer beneath in order to be installed.
Continuous seam positive locking follows after non-structural. This system utilizes the system of an integral seam. All panels must latch over the previous panel and locked into place using a clip. Seam caps are not essential to this. The mechanically seamed infield is the third system. Various seam lengths may be attained with this. A more elevated seam may enhance structural ability with the roofing system. A fixed or sliding clip system may be used to install the panels.
These clips slide during expansion and contraction. This is why it may tolerate any fluctuation in the temperature. Here at Mid-Florida Metal Roof Contractors of Jacksonville, we offer several types of standing seam systems. Just contact us, and we will be able to provide for you! We have a very high satisfaction rate with our clients. This is because the systems we use have been thoroughly studied in theory and put into practice before releasing it to the public. We are just one contact away.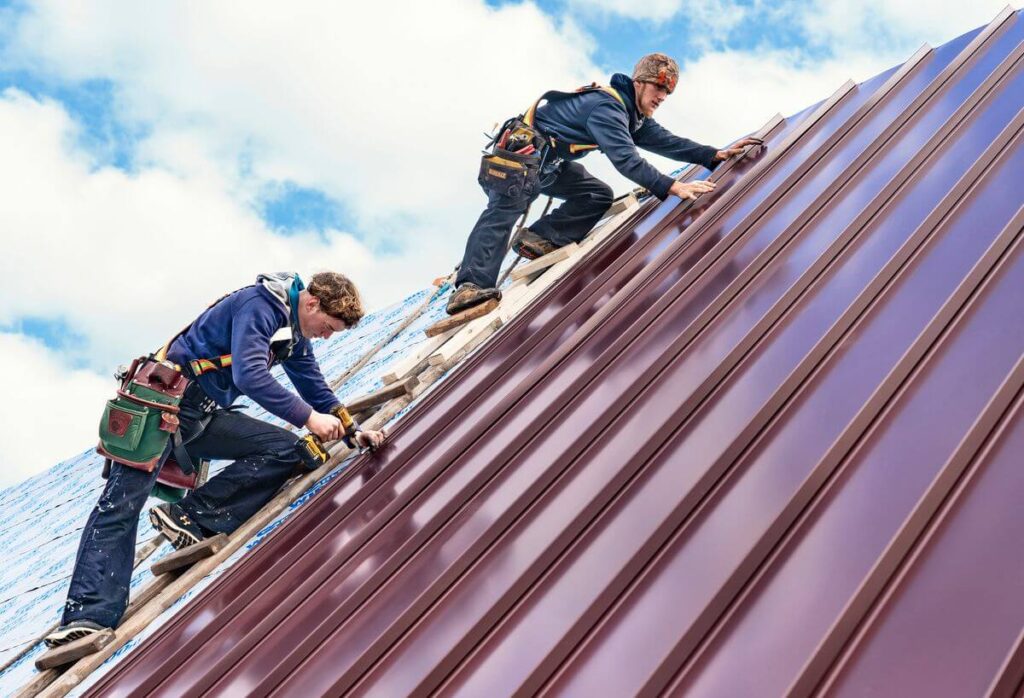 Different Materials Used
This metal roofing may come in different materials and colors; clients desire a lighter color. Why? This is because those colors that are lighter in shade may provide more resilience against solar radiation. Make sure to use quality materials with Standing Seam Metal Roofs. Once you use a higher value material, your roofing may provide greater resistance against corrosion, the challenge against time, and weather. Good news for our customers because standing seam can be made of aluminum, zinc, etc.
These materials differ in appearance, cost, and characteristics. Some considerations that clients heed are their area, aesthetic desire, and money. Aluminum is first on the list. This metal has a fantastic strength-to-weight ratio. What this essentially implies is that aluminum façade systems are lighter than steel.
It also has a natural resiliency against rust. This is why aluminum is commonly used for commercial projects. Modern aluminum alloys may also be able to bear the heavyweight of large glass spans. Aluminum and its alloys are lighter in weight; provide excellent durability and resistance against corrosion. Meanwhile, copper is a common material as well. It is more hardwearing than the other options. You are able to completely recycle copper as well. These are some of the several materials, which you could use with Standing Seam Metal Roofing.
Its Advantages
Metal roofing is known for its hardwearing property. It is impervious to insects and inclement weather conditions. While the occasional denting may happen, there are types of metal roofing, which could withstand such a scenario. Plus as long as the material is of optimal quality, you won't have to worry.
Standing Seam Metal Roofing is long-wearing as well. No need for high maintenance. The roofing may stand on its own for a very long time. Most times, it can even outlast its coating. When it does outlast its coating, that calls for its occasional maintenance. It is also very energy-efficient. Heat absorption is minimized with this roofing. More money will be saved for you due to the metal's reflective surface.
Cost or Price
Compared to asphalt shingles, metal roofing may be pricier at its initial cost. This can be based depending on your area, the number of specialists available, and the type of material you will use. However, with its longevity in mind, you will be able to max out your money more than asphalt shingles.
Asphalt shingles typically call for replacement every 15 to 25 years – but not so with metal roofing. Metal roofing may last more than 50 years, maybe even more than a hundred! But this is depending solely on the installation and material used. With copper and the materials of the like, it will surely last you more or less six (6) decades.
Final Verdict
The qualities of Standing Seam Metal Roofing may make or break it. This, of course, depends on what the client is looking for. However, with all the benefits listed, standing seam is certainly worth the cost.
Trusted Metal Roofing Company
---
Different types of the standing seam are offered at Mid-Florida Metal Roof Contractors of Jacksonville. With us, you do not have to worry about improper installation and low-quality products. Improper installation and compromised quality of materials are what cause metal roofing to not live up to its life expectancy.
But not with us! Before putting our services and materials out, we ensure to thoroughly study and put them into practice. So the chances of encountering any problems are significantly reduced. Errors are unacceptable in our company.
Contact us now here at Mid-Florida Metal Roof Contractors of Jacksonville and experience world-class and exceptional quality Standing Seam Metal Roofing Services!
Time to Replace Your Roof? We Can Help
---
Considering roofing replacement? When it comes to roofing projects, many homeowners rely on professionals to get the job done. At Mid-Florida Metal Roof Contractors of Jacksonville, our specialists stick to all the industry standards when installing metal roofing on both residential and commercial properties. Therefore, you can be sure of getting a sturdy roof on top of your house. As a result, you can get the best services from our company in the following fields;
What Locations do we Serve?
---
Mid-Florida Metal Roof Contractors of Jacksonville is a name you can trust and rely on. Our metal roofing services were limited in Jacksonville, FL when we started. But with time our company has expanded and is now serving over ten locations within Florida.
It shows how reliable we are. Here are some places within Florida, where you can access our world-class metal roofing services: –