Contact Jacksonville's Top
Metal Roofing Company for a Free Quote
Among the many different types and kinds of services, you can have for your Metal Roofing Systems, which one do you need? Finding what you need is one challenge – and the next challenge you would have to face is to choose the Metal Roofing Company or Contractor that you can actually trust and bank on. There are a lot of Metal Roofing Contractors you can work with here in the city of Jacksonville, Florida, but the best Metal Roofing Contractor that you can well count on is none other than us here at Mid-Florida Metal Roof Contractors of Jacksonville.
We are the city's top Metal Roofing Contractor, capable and skilled in providing a whole wide range of Metal Roofing Services. We've been considered and deemed as the go-to company of all property owners – whether it's for a residential property or a commercial property – not once did we fail to give them the quality of Metal Roofing Solutions and Services they deserve!
What Services We Offer
Would we be deemed as the best and the most reliable Metal Roofing Contractor if our services are only limited? Do you think we'll be able to pursue and to push the fact that we are considered and deemed as the best if we only have a select few services we specialize in?
Definitely not! That's why over the years, part of our focus as a company was to make sure that we give all our clients the best and the highest quality of Metal Roofing Services, whatever particular service it is they need. Some of the most sought after services that we are asked of include, but are not limited to the following:
Corrugated Metal Roofing Systems

Tapered Panels Metal Roofing Systems

Standing Seam Metal Roofs

Metal Shingle Roofs

Stone-Coated Steel Roofing

Metal Tile Roofs

And Many More!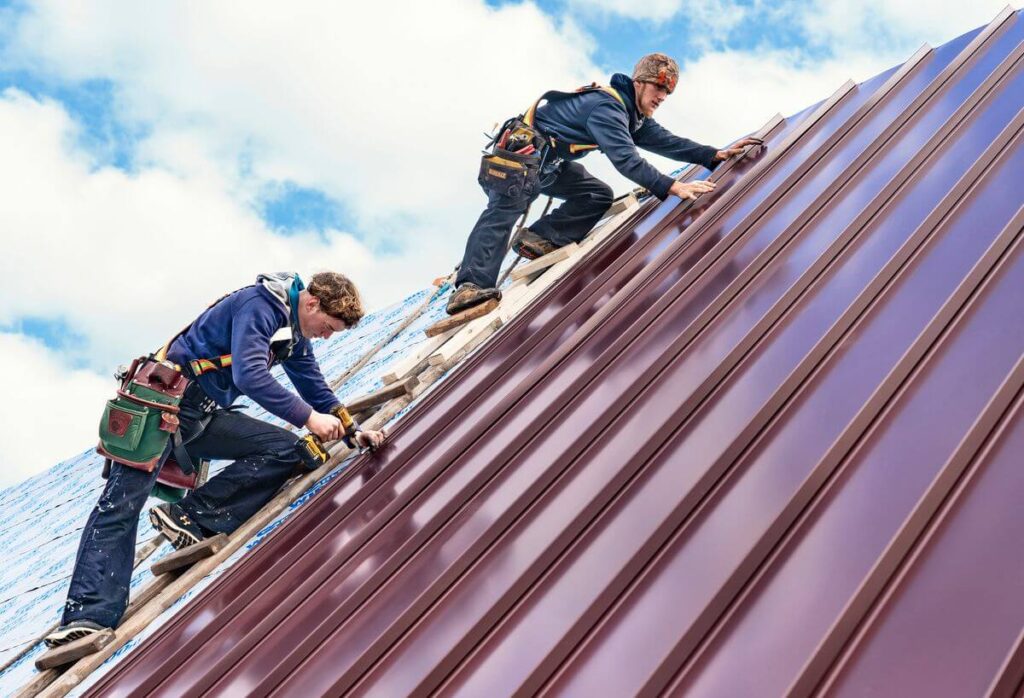 We Handle Installations, Repairs, and Replacements!
In case you are in need of a comprehensive Metal Roofing System Service or Solution, you can freely contact us here at Mid-Florida Metal Roof Contractors of Jacksonville to help you in providing Metal Roofing Installations, Metal Roof Repairs, Metal Roof Replacements – even with a Re-Roofing or a Retrofitting Service!
If you're on the hunt for the best in the industry, don't hesitate to work with us here at Mid-Florida Metal Roof Contractors of Jacksonville! Our entire team has been working hard to help out all property owners with their roofing systems, no matter how hard or how complicated a particular task or property may be.
With just one call, you will not have any problems if you decide to choose us here at Mid-Florida Metal Roof Contractors of Jacksonville! Experience premium and quality Metal Roofing Services without spending a fortune for it!
Get a Free Quote Too!
---
Not sure how much budget you need for the particular service you're looking for? We here at Mid-Florida Metal Roof Contractors of Jacksonville offer a free quotation or estimate of all the services you need!
It's a tool that can enhance your experience because you no longer have to wait any longer! It's easily available and you'll absolutely be able to use it, whatever service you need and wherever you might be in the city.
Time to Replace Your Roof? We Can Help
---
Considering roofing replacement? When it comes to roofing projects, many homeowners rely on professionals to get the job done. At Mid-Florida Metal Roof Contractors of Jacksonville, our specialists stick to all the industry standards when installing metal roofing on both residential and commercial properties. Therefore, you can be sure of getting a sturdy roof on top of your house. As a result, you can get the best services from our company in the following fields;
What Locations do we Serve?
---
Mid-Florida Metal Roof Contractors of Jacksonville is a name you can trust and rely on. Our metal roofing services were limited in Jacksonville, FL when we started. But with time our company has expanded and is now serving over ten locations within Florida.
It shows how reliable we are. Here are some places within Florida, where you can access our world-class metal roofing services: –