St. Augustine Beach's Best
Metal Roofing Company & Contractors
Ever had a problem with your roofing? Or are you looking for an alternative? Are asphalt shingles not resistant enough to withstand the coastal life? Well, you found us at the right time and right place! Metal roofing might just be the answer to your problems! But then, who could you call during times of need? Are you sure your company is equipped enough to install this roofing?
We're glad you asked! With us at Mid-Florida Metal Roof Contractors of Jacksonville, your worries for tomorrow will no longer exist today – at this very moment!
Why Metal Roofing
Asphalt shingles might be the most popular up to date. However, in St. Augustine Beach, where the rise and tide of the ocean might just reach your roofing, its popularity might not catch up with its performance. Asphalt shingles can easily be subjected to the unappealing effects of corrosion. With metal roofing, you won't have to worry as much. Moreover, there are more benefits to metal than asphalt. One most important benefits of coastal areas are its resistance to salt corrosion.
Metal comes in different types such as zinc, stainless steel, and aluminum to name a few. Aluminum is widely used in coastal areas or areas with coastal climates. This is due to its strong resilience against salt corrosion and rust. Even better, metal can be coated in different protective coatings!
Unlike asphalt, metal is heavy-duty, lightweight, and long-wearing. At Mid-Florida Metal Roof Contractors of Jacksonville, you have access to different types of metal and different types of coating. Plus, all of these have been ensured high-grade and high quality!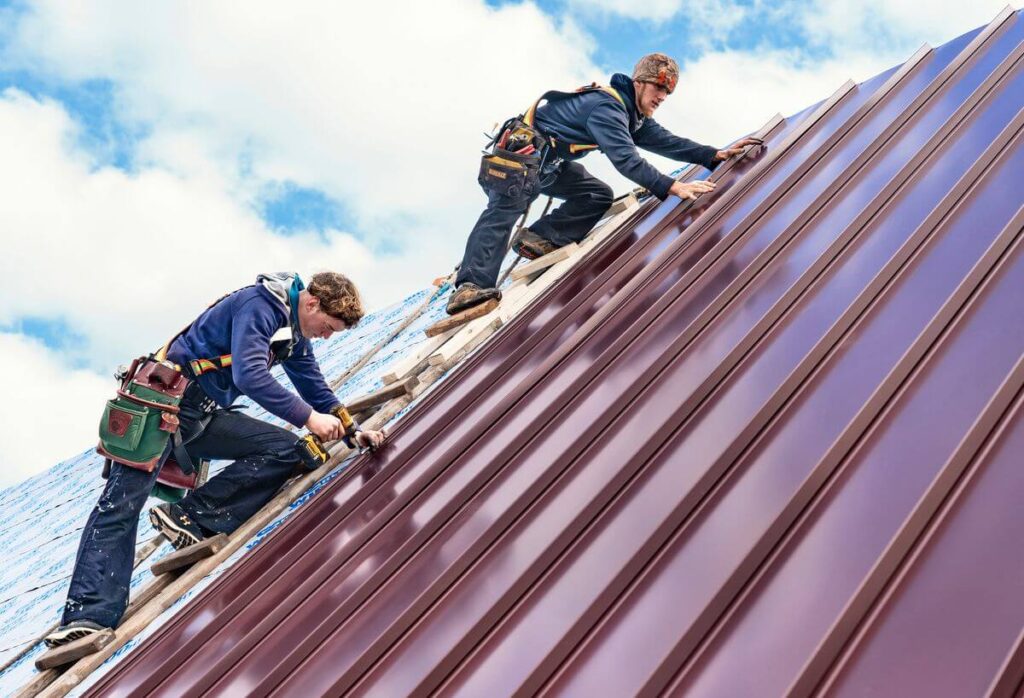 Why Choose Us
Many companies claim that they are the best in terms of roofing installation and whatnot. So what makes us different? Here at Mid-Florida Metal Roof Contractors of Jacksonville, we can offer you the lowest price guaranteed!
This does not mean our materials and skills are compromised, however, despite the lower cost. Before we even make our services and materials available, we ensure to test the skills of our team and our materials both in theory and practice.
How so? Top-notch, practical engineers have been working for us for years – even decades. Unlike other roofing companies, we have been in the industry far too long to even commit any error and lose the trust of our clients. We certainly know what we are doing.
We have never received any complaints from our clients. The only time they ever call back to us is to avail of another of our services such as another installation or for maintenance.
More Services
---
We offer different services as well. The availability of our services has been made possible due to our top priority to cater to our clients. Many of them have inquired if the company has services for so-and-so. The good news for you is that you no longer wait for long! We have many available skilled installers, and our services do not remain only in one expertise.
At Mid-Florida Metal Roof Contractors of Jacksonville, we offer the following services:
Tapered Panels Metal Roof
Metal Shingle Roof
Standing Seam Metal Roof
Corrugated Metal Roof
And many more!
Do not limit yourself. Only settle for the best. Don't be shy call us now at Mid-Florida Metal Roof Contractors of Jacksonville for a free consultation!
Time to Replace Your Roof? We Can Help
---
Considering roofing replacement? When it comes to roofing projects, many homeowners rely on professionals to get the job done. At Mid-Florida Metal Roof Contractors of Jacksonville, our specialists stick to all the industry standards when installing metal roofing on both residential and commercial properties. Therefore, you can be sure of getting a sturdy roof on top of your house. As a result, you can get the best services from our company in the following fields;
What Locations do we Serve?
---
Mid-Florida Metal Roof Contractors of Jacksonville is a name you can trust and rely on. Our metal roofing services were limited in Jacksonville, FL when we started. But with time our company has expanded and is now serving over ten locations within Florida.
It shows how reliable we are. Here are some places within Florida, where you can access our world-class metal roofing services: –